Welcome!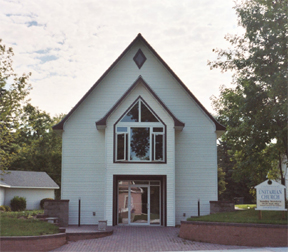 The Unitarian church of Underwood is a welcoming community of diverse people where our celebration of life and common search for meaning bind us together. - Unitarian Church of Underwood Mission Statement
We are a welcoming congregation that is a spiritual home to all people regardless of race, color, gender, affectional or sexual orientation, gender identity or expression, age, national origin, socioeconomic status, physical or mental ability.
Please join us Sundays for Services, Community and Connection! 10 a.m. in church AND on Zoom.
We look forward to seeing you each week whether at the church or on-line.
Come early to chat and connect.
When joining us on Zoom: you can arrive starting at 9:45 a.m. Arriving early will give you time to check your sound and internet connection.
For those of you on the UCU email list, Friday afternoon you will receive information for these virtual services, about the week's speaker and the UCU Weekly news. If you would like to be added to our email list please send an email request to ucofu@ucofu.org.
Zoom link:
bit.ly/UCUSunday
Meeting ID: 970 8841 4602
Passcode: 424091
Call this number to hear the service on your phone: +1 312 626 6799
When you join the Service by phone, please share your name with the congregation so we know who you are. In the Zoom meeting participants can only see your phone number unless we add your name.
Newcomers Welcome!
We are glad you are here! When you attend the Unitarian Church of Underwood in-person or on Zoom, you will find a warm and welcoming community. People of all ages are welcome. Families begin the Sunday Service together, and then the children leave to attend their religious education class.

We invite you to join us for conversation during our social time following the service. Very often the conversation from the sanctuary continues during our social time. Although we also use that time to get to know one another and to simply visit.
Dress at our church is always eclectic and informal. Dress comfortably and come as you are. If you are comfortable with jeans in the winter and shorts in the summer then feel free to wear them.
Sunday Speakers
December 3 - Rev. Karen Van Fossan
A Fire at the Center
When the living waters that crisscrossed the Standing Rock reservation came under threat, minister of the nearby Unitarian Universalist congregation Karen Van Fossan asked herself what it means, as a descendent of colonialism, to resist her own colonial culture. When another pipeline, Line 3, came to threaten Anishinaabe ways of life, the question became even more resounding. Join us for this engaging presentation on the practice of being human, despite a colonial culture that would deny full humanity to us all.
Karen Van Fossan is an abolitionist UU minister, licensed professional counselor,
and former defendant in the Line 3 pipeline resistance. Author of a new memoir, *A Fire at the Center: Solidarity, Whiteness, and Becoming a Water Protector*, she lives in Fargo, North Dakota, on the traditional lands of Anishinaabe, Lakota/Dakota, and many Indigenous peoples.
Discussion with Rev. Karen Van Fossan follows the service
Lunch will be served following the service so folks can stay for the discussion: Vegetarian Chili with bread. Folks are invited to bring other goodies to share.
December 10 - Mary Worner and Bonnie Guyer Graham
Introduction to the 8th Principle
Proposed 8th Principle
Journeying toward spiritual wholeness by working to build
a diverse multicultural Beloved Community by our actions
that accountably dismantle racism and other oppressions
in ourselves and our institutions.
An introduction to the proposed 8th Principle. Where did it come from? What does it say? What are some questions we ask about the 8th Principle?
Mary Worner is a long time member of UCU, and a current member of the UCU Board. Bonnie Guyer Graham is the church administrator.
Giving to Unitarian Church of Underwood
Give to Unitarian Church of Underwood by mail:
Mail a check to: UCU, PO Box 58, Underwood, MN 56586 Thank you!
Give to Unitarian Church of Underwood electronically using Givelify.com:
How?
1. Click here giv.li/mog475 and follow the steps to give.
2. Using your phone: download the free Givelify mobile giving app from the Apple store or Google Play store.
LEARN MORE: Watch the video: How to Make Your First Donation with Givelify youtu.be/8RVHos0lvi4
Thank you for your generosity!
We Are Unitarian Universalists
This is a three minute video describing Unitarian Universalism. Please follow the link below to watch.
www.uua.org/beliefs/who-we-are/video
Unitarian Church of Underwood Affiliation
The Unitarian Church of Underwood is a member of the Unitarian Universalist Association and MidAmerica Region.