Our Mission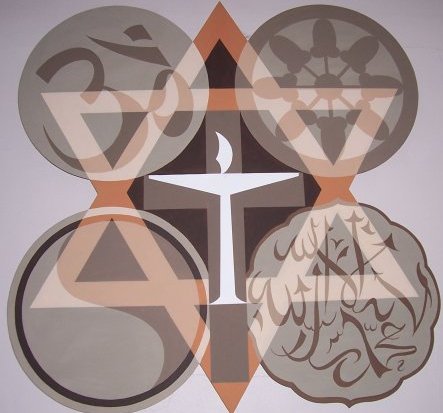 The Unitarian church of Underwood is a welcoming community of diverse people where our celebration of life and common search for meaning bind us together.
Our Purpose
The Unitarian Church of Underwood is a fellowship of seekers after truth, bound by no dogma, restricted by no creed, following the dictates of their own conscience. The purpose of this fellowship is to bring religious liberals into closer acquaintances and cooperation. Relying upon reason as our guide, and upon freedom as our method, we seek to grow in understanding of ourselves and of our neighbors and to serve our community.
Our Seven Principles
Unitarian Universalist congregations affirm and promote seven Principles, which we hold as strong values and moral guides. We live out these Principles within a "living tradition" of wisdom and spirituality, drawn from sources as divers as science, poetry, scripture and personal experience.
As Rev. Barbara Wells ten Hove explains, "The principles are not dogma of doctrine, but rather a guide for those of us who choose to join and participate in Unitarian Universalist religious communities."
1st Principle: The inherent worth and dinity of every person;
2nd Principle: Justice, equity and compassion in human relations;
3rd Principle: Acceptance of one another and encouragement to spiritual growth in our congregations;
4th Principle: A free and responsible search search for truth and meaning;
5th Principle: The right of conscience and the use of the democratic process within our congregations and in society at large;
6th Principle: The goal of world community with peace, liberty, and justice for all;
7th Principle: Respect for the interdependent web of all existence of which we are a part.
The Living Tradition
The living tradition we share draws from many sources:
Direct experience of that transcending mystery and wonder, affirmed in all cultures, which moves us to a renewal of the spirit and openness to the forces which create and uphold life.
Words and deeds of prophetic women and men which challenge us to confront powers and structures of evil with justice, compassion and the transforming power of love.
Wisdom from the world's religions which inspires us in our ethical and spiritual life.
Jewish and Christian teachings which call us to respond to God's love by loving our neighbors as ourselves.
Humanist teachings which counsel us to heed the guidance of reason and the results of science, and warn us against idolatries of the mind and spirit.
Spiritual teachings of Earth-centered traditions which celebrate the sacred circle of life and instruct us to live in harmony with the rhythms of nature.
Conglomerate of World Religions
The picture above is of the wall hanging in the front of our sanctuary. It was created by Fergus Falls artist Charles Beck and is called "Conglomerate of World Religions". The idea came from a mid 1970's Unitarian Universalist Christmas card.
Included in this piece are:
Unitarian Universalism - Flaming Chalice
Christianity - Cross
Judaism - Magen David (or Star of David)
Hinduism - Om
Buddhist - Dharmachaka, or Wheel of Truth/Law
Taoist - Yin/Yang
Islamic - Islamic faith forbids pictoral renderings of living things. This led to a tradition of ornate calligraphy that includes the name Allah
Flaming Chalice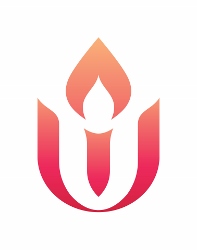 Flaming Chalice: Symbol of Unitraian Universalist Faith
A flame within a chalice, represents the Unitarian Universalist Association (UUA) and is a symbol of the Unitarian Universalist faith. The image to the left is the current official UUA logo, but congregations often use other images of the chalice. Because of this, you may see many different styles of flaming chalices.
At the opening of Unitarian Universalist services, many congregations light a chalice. The lighting of the chalice is usually accompanied by a brief reading. The following is what the congregation says together when the chalice is lit at the Unitarian Church of Underwood: This chalice is the symbol of our community. No single belief includes us here; no disbelief excludes us. Our celebration of life and common search for meaning bind us together
Social Justice
We have a legacy of "deeds not creeds." Our work for a better world calls us to unexpected places as we harness love's power to stop oppression. From grassroots community organizing to interfaith state, national, and corporate advocacy; in protest marches, prayer vigils, and press conferences; in homeless shelters and in prisons, Unitarian Universalists put our faith into action.
Our justice efforts are grounded in our congregationally-driven social justice statements and our call to break down divisions, heal isolation, and honor the interconnectedness of all life and all justice issues. We model these commitments by creating just, welcoming, and inclusive congregations. We act in partnership with groups and communities most impacted by injustice on local, state, national, and international levels.
Our justice ministries focus on key priorities for our congregations and communities:
economic justice
environmental justice
immigrant justice
lesbian, gay, bisexual, transgender, and queer justice
racial justice
reproductive justice
voting rights
Our ministry includes service, education, advocacy, and public witness (the spiritual practice of taking a public position in support of justice). Our Standing on the Side of Love campaign harnesses the power of love to end oppression. Our UU College of Social Justice provides experiential learning opportunities to deepen the work of justice for people of all ages. Our work is led by our denominational staff, congregational leaders, and a wide variety of coalition partners and UU groups focused on justice and identity.
Taken from www.uua.org/justice