Welcome!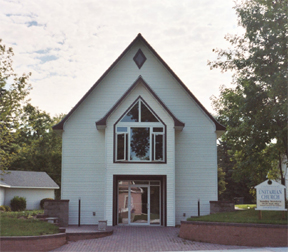 Thank you for visiting our website. We hope that these pages will give you an understanding of who we are as a church, as well as, what we are as a religion. We also have much information about what is happening at the church to keep our members, friends and visitors informed.
The Unitarian church of Underwood is a welcoming community of diverse people where our celebration of life and common search for meaning bind us together. - Unitarian Church of Underwood Mission Statement
We are a welcoming congregation that is a spiritual home to all people regardless of race, color, gender, affectional or sexual orientation, gender identity or expression, age, national origin, socioeconomic status, physical or mental ability.
Virtual Sunday Morning Service and Gathering
Virtual Sunday Morning Service and Gathering at 10 am, join us early on Zoom at 9:45 to chat.
For those of you on the UCU email list, early Sunday morning you will receive information for these virtual services, and Order of Service and the UCU Weekly news. If you would like to be added to our email list please send an email to ucofu@ucofu.org.
For information about who is speaking and more about our congregation see the church calendar and read the most recent monthly newsletter.
Zoom link:
bit.ly/UCUSunday
Meeting ID: 970 8841 4602
Passcode: 424091
Call this number to hear the service on your phone: +1 312 626 6799
When you join the Service by phone, please share your name with the congregation so we know who you are. In the Zoom meeting participants can only see your phone number unless we add your name.
We hope to see you on Zoom!
Newcomers Welcome!
We are glad you are here! When you attend the Unitarian Church of Underwood on Zoom, you will find a warm and welcoming community.

We invite you to join us for conversation during our social time following the service. Very often the conversation from the sanctuary continues during our social time. Although we also use that time to get to know one another and to simply visit.
If you have questions, use Chat in Zoom to send a message to the Unitarian Church of Underwood (zoom host). The host will want to introduce you to someone on the welcoming team.
For more information about Sundays at our church, including the information about the speaker for each week's Sunday Service, you can click on the heading Sundays at the top of this page.
Dress at our church is always eclectic and informal. Dress comfortably and come as you are. If you are comfortable with jeans in the winter and shorts in the summer then feel free to wear them.
Sunday Speakers At A Glance
Novmeber 28 - Sara Lewis - Growing in our UU Faith: Spiritual Development of the Young
December 5 - Ellen Eastby - We Covenant to Affirm and Promote
December 12 - Edie Barrett speaking about Healing and Art
December 19 - Steven Posch
Story teller, scholar, author, and poet, Steven Posch is part of a strong tradition of modern Wicca, and ancient Paganism in Minnesota, and the keeper of the Minnesota Ooser. Steven will share stories and insights into Winter Solstice, and the Wheel of the Year.
Christmas Eve December 24 - Ellen Eastby - Rekindling the Flame
December 26 - Community Celebration, What Brings You Joy?
UCU writers answer the question: What brings you joy?
Diane Johnson, Edie Barrett, Katy Olson, Melody Shores, Ozzie Tollefson, and Stephanie Sanderson.
Need Help with Zoom?
If you are a bit confused with all of this Zoom business, we have help for you. Click on the link below to learn about Zoom.
Zoom Help - www.ucofu.org/Zoom/Zoom.pdf
Giving to Unitarian Church of Underwood
Give to Unitarian Church of Underwood by mail:
Mail a check to: UCU, PO Box 58, Underwood, MN 56586 Thank you!
Give to Unitarian Church of Underwood electronically using Givelify.com:
How?
1. Click here giv.li/mog475 and follow the steps to give.
2. Using your phone: download the free Givelify mobile giving app from the Apple store or Google Play store.
LEARN MORE: Watch the video: How to Make Your First Donation with Givelify youtu.be/8RVHos0lvi4
Thank you for your generosity!
We Are Unitarian Universalists
This is a three minute video describing Unitarian Universalism. Please follow the link below to watch.
www.uua.org/beliefs/who-we-are/video
Unitarian Church of Underwood Affiliation
The Unitarian Church of Underwood is affiliated with the Unitarian Universalist Association and MidAmerica Region.