Welcome!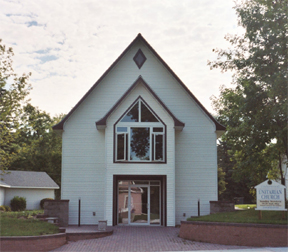 Thank you for visiting our website. We hope that these pages will give you an understanding of who we are as a church, as well as, what we are as a religion. We also have much information about what is happening at the church to keep our members, friends and visitors informed.
We are a welcoming congregation that is a spiritual home to all people regardless of race, color, gender, affectional or sexual orientation, gender identity or expression, age, national origin, socioeconomic status, physical or mental ability.
Sundays 411
Sundays are the busiest day of the week at our church. Sunday Services start at 10:30 September through May. Services start at 9:30 in June, July, and August. We are located at 206 North Main Street, Underwood, MN 56586. Be sure to check out our Sundays page, where you will find information about everything that happens on Sunday at the Unitarian Church of Underwood, including the speaker for each week. The link is at the top of this page.
Sunday Speakers At A Glance
August 2 - Shannon Smith - How We Know God
August 9 - Jason Bergstrand - Posture of Purpose?
August 16 - Laurie Witzkowski - A Calling of Monarchs
August 23 - Roger Parks - Watering the Divine Presence Potluck following service at Bob and Mary Worner's home
August 30 - Lowell Carpenter
September 6 - Bob Worner - Let Justice Roll Down Like Waters
September 13 - U Group experience - Or participate in "God's Work - Our Hands" at Sverdrup. Worship at 9:00, Community Service at 10:00, lunch for participants at 11:30.
September 20 - Rod Broding - Misfits, Part 2
September 27 - Kris & Wally Warhol - Francis Ellison the Gift That Keeps on Giving
October 4 - Ellen Eastby - Finding Grace
October 11 - Dr. Patrick West - Environmental Justice: From Toxic to CO2
October 18 - Gary Robinson - Mindfullness
October 25 - Bill Thomas - How Do you Do Death?
Sunday Morning Happenings
For more information about the following see our newsletter at www.ucofu.org/Newsletters/UCU%20September%2015%20Newsletter.pdf
Adult Religious Education - First Sunday of the month at 9:15 - Led by John Minge
Mindfullness Sitting - Third Sunday of the month at 9:00 - Led by Stan Carignan
How To Read The Bible by Harvey Cox - Fourth Sunday of the month at 9:15 - Led by Bob Worner
Children's Religious Education - To be announced
Newcomers Welcome!
We are glad you are here! When you attend the Unitarian Church of Underwood, please sit wherever you are comfortable in the sanctuary. We invite you to join us for treats during our social time in the lower level of the church following the service. Very often the conversation from the sanctuary continues during our social time. Although we also use that time to get to know one another and to simply visit.
There is more information available in the front entry about the Unitarian Church of Underwood and Unitarian Universalism. If you have any questions, you can ask JoAnn, our Administrative Consultant, or that day's greeters.
For more information about Sundays at our church, including the information about the speaker for each week's Sunday Service, you can click on the heading Sundays at the top of this page.
Dress at our church is always eclectic and informal. Dress comfortably and come as you are. If you are comfortable with jeans in the winter and shorts in the summer then feel free to wear them. We don't have air conditioning so you may want to take that into consideration during the hot summer months. Likewise, it can sometimes be cool in the winter. This is largely due to wanting to be as green as possible, as well as, keep our utility costs reasonable.
Assisted Listening Devices are available. There is a lift from the first floor to the sanctuary which is located on the second floor. Greeters will be glad to help make your visit comfortable and enjoyable in any way.
Unitarian Church of Underwood Affliation
The Unitarian Church of Underwood is affliated with the Unitarian Universalist Association and MidAmerica Region.